Past Seasonal Releases
Every so often, to keep things, well, spicy, we collaborate with our friends to create a small batch of extra special chili crisp highlighting what's in season. These one-offs allow us to be creative, scratch that seasonal craft cocktail R+D itch from our bartending days, and offer you a flavor experience that truly captures the best of Sonoma County in a single jar.
These limited batches have previously sold out in days. We are currently focusing our energy on making larger batches of these so that there's more to go around! If you'd like to be notified when they drop, follow us on Instagram. Or better yet, sign up for Club Big Spoon (coming soon!) and get them shipped straight to your door before they're even available to everyone else. 
Check out our past seasonal releases:
Main Squeeze 
Spring 2023 -- 20 cases produced 
Our first golden chili crisp is warm weather in a jar. It features hot lemon drop peppers from Triple T Farms in Santa Rosa and juicy Meyer lemons sourced from our friends in Sonoma County and beyond. We've added Southeast Asian aromatics like galangal and lemongrass, making it a perfect accompaniment to grilled meats, papaya salads, spring rolls, and vermicelli bowls. 
Heat level: 7/10. Not as XXL hot as our Dragon's Booty chili crisp, but will still get ya. It's just hot enough to make you sweat a lil bit.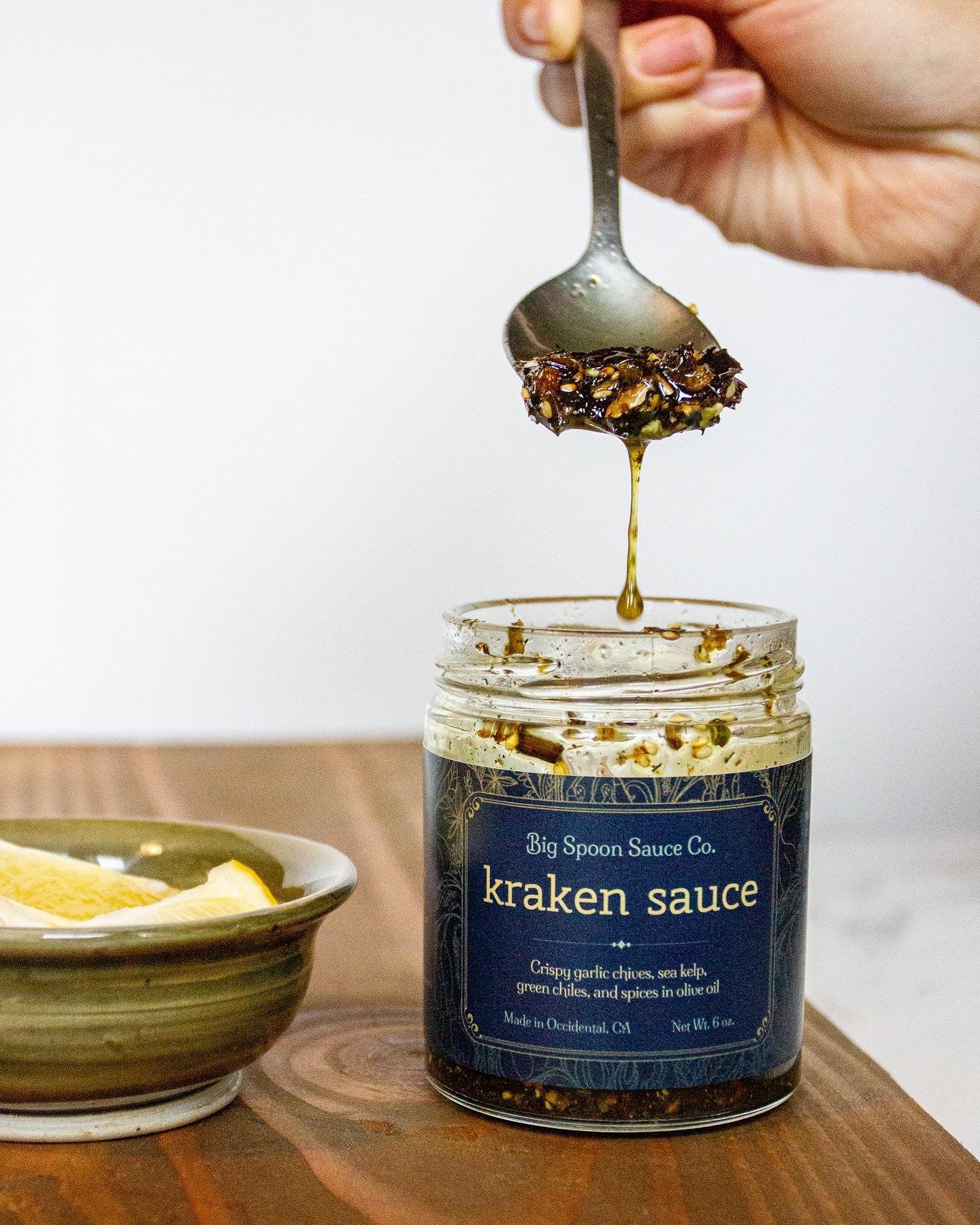 Kraken Sauce
Winter 2022 — 10 cases produced 
This funky deep green chili crisp has the most delightfully aromatic olive oil infused with extra fragrant garlic chives from Radical Family Farms in Sebastopol. It's got a really satisfying heat thanks to a combo of our own jalapeños grown in Occidental and New Mexico green chiles. The foraged kombu, nori, and sesame get jiggy with the other power players (garlic, dill, cardamom, Sichuan peppercorns, ginger, fennel…. etc....) to make this a one-of-a-kind chili crisp with strong furikake vibes.
Heat level: 6/10.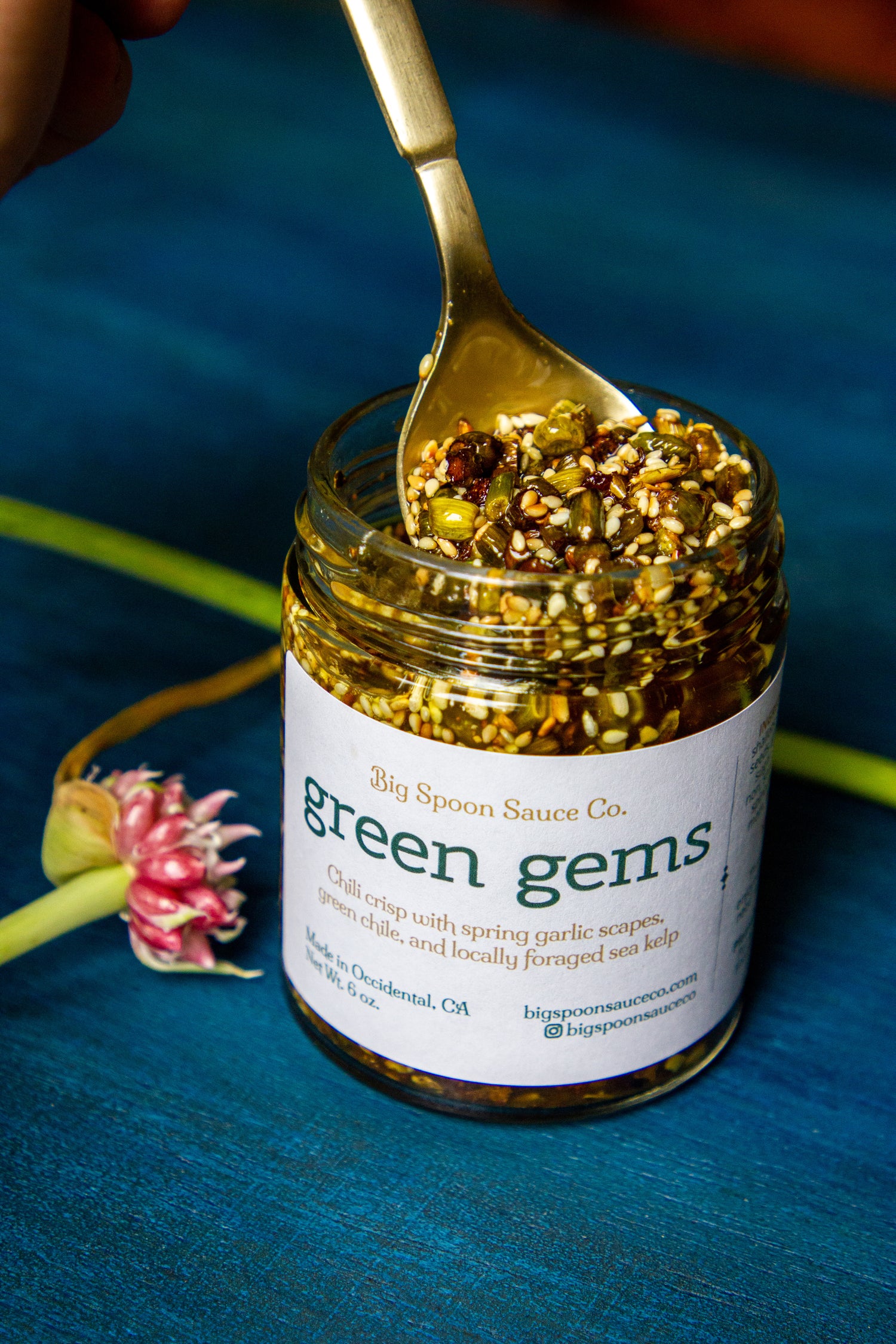 Green Gems
Spring 2022 — 7 cases produced 
Our first spontaneous one-off was one for the books. Chile verde is a favorite in our house, but green chiles themselves hadn't yet made it into our products because Chinese chili oils are traditionally red. We'd always wanted to make a crispy, Sichuan-style salsa verde with the best green things we could find seasonally. 
Garlic scapes, the sweet tender stems that flower from hard neck garlic varieties, make a fleeting appearance at the farmers market every spring. One market in May we bought all the scapes that Tom at Armstrong Valley Farm had left at the end of the day and our green chili crisp dreams came true. We chopped up all the garlic scapes (which, given how curly and unwieldy they can be, is a gnarly prep task), crisped them up, and snuggled them in with our stash of foraged sea kelp straight out of Bodega Bay. Green Sichuan peppercorns, fennel, fried shallots, and peanuts rounded it out to make Green Gems. It's a jar of springtime treasures from our very own Sonoma Coast. It tastes like a mermaid snack and we will 100% be making this again. 
Heat level: 1/10. All the flavor from the green chiles and none of the heat.